Press Release – Sheriva Conde Nast 2016 Award for Excellence
Sheriva Luxury Villas & Suites on Anguilla is the Winner of the 2016 Condé Nast Johansens Awards for Excellence in the category of Best Exclusive Use Villa for The Caribbean & Pacific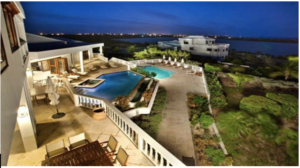 (Anguilla, British West Indies, January 2016) Sheriva Luxury Villas & Suites is the winner of the coveted 2016 Condé Nast Johansens Awards for Excellence in the category of Best Exclusive Use Villa for The Caribbean and Pacific. Sheriva, no stranger to prestigious awards and global recognition, is extremely proud of this newest honour.
From the publishers of Vogue, GQ, Travellers and Glamour, Condé Nast Johansens, is a leading luxury guide for discerning independent travellers. The global awards were created to acknowledge, reward and celebrate excellence across their hospitality collection. The annual Condé Nast Johansens Awards for Excellence are a trusted mark of quality, recognised by luxury consumers and travel professionals alike.
Located in posh West End, overlooking Cove Bay and Maundays Bay beaches with uninterrupted views to St. Martin, Sheriva is the realized dream of multitalented entrepreneur, Sheridan Smith. His vision encompassed creating a luxury property of an exceptional magnitude on the island of his birth. With the support of his close-knit family, Mr. Smith embarked on a hospitality journey in 2002 which resulted in a tremendous addition to the already world-renowned luxury offerings on the 35-square mile island. Sheriva Luxury Villas and Suites, described as "the ideal escape for those seeking the privacy of a villa accommodation with all the amenities of an exclusive Caribbean hotel…[with] a winning mix of understated elegance and contemporary panache" has steadily dominated the private villa-hotel sector on Anguilla since launching in December 2006.
"Sheriva is a true testament to what hard work, determination, a tremendous amount of pride and integrity, and the will to succeed can accomplish. This property is locally owned, locally built, locally staffed and locally managed. We are very proud of this fact," declares CEO Smith, a prominent Caribbean developer who plays an integral hands-on role in the operations of the three-villa enclave. Smith recognizes the tireless dedication of the staff as being at the core of all of Sheriva's accomplishments.
"From Landscaping to our Guest Services and Housekeeping staff, we work as a family of professionals at Sheriva. The goal remains the same: exceed our guests' expectations and have them return year after year," Smith states.
At the helm of the senior management team for the past decade has been General Manager, Jeannine Connor-Gittens. A management veteran in the realm of airlines, luxury hotels and private villas, she first became acquainted with Sheriva when her family's company, South American Lumber, was contracted to provide all the exotic hardwoods for the project.
Sheriva Luxury Villas & Suites on Anguilla is the Winner of the 2016 Condé Nast Johansens Awards for Excellence in the category of Best Exclusive Villa for The Caribbean & Pacific
(January 2016/pg. 2)
Connor-Gittens recalls Sheriva's humble beginnings: "I remember my very first meeting with Mr. and Mrs. Smith back in 2004. We sat under some trees on the then construction site. Our 'chairs' were inverted paint buckets and our 'table' was a half sheet of plywood. It was quite comical. However, to this day, most of our collaborated service and amenities basics that were put into motion on that day [such as guests having exclusive signing privileges at Cap Juluca and providing state-of-the-art golf carts for beach-hopping] are still a part of what makes Sheriva such a ravishing success in 2016."
Touting its exclusive relationship with neighboring Cap Juluca hotel as an added perk, only guests of Sheriva are afforded signing privileges at Cap Juluca's restaurants, bars, boutiques, spa and wellness center, and watersports on Maundays Bay beach. This relationship has been firmly in place since Sheriva's inception and continues to blossom.
Sheriva consists of 22 opulent rooms spread across 3 villas, seven pools, a games lounge, fully equipped gym and other complimentary comforts such as property-wide Wi-Fi and deluxe golf carts for beach jaunts to Maundays Bay. Versatile accommodations start at 1-bedroom private pool suites up to fully staffed 8-bedroom villas. Sheriva Luxury Villas and Suites has been a Conde Nast Johansen's Recommended Property since 2009 and AAA Four-Diamond awardee since 2008. Leading up to Sheriva's 10-year anniversary on December 26, 2016, various special offers will be promoted all throughout 2016.
For more information, visit www.villasatsheriva.com , email sheriva.pr@gmail.com , or call 264-498-9898 or 954-237-5713.
-END-
Author description